Reactive Graphics offers industry-specific web solutions tailored to meet property business needs. Our agency understands the various sectors of the property market, making us the ideal choice to create your property web design to showcase your projects online.
Web design for Fenton Whelan
One of our most stylish web sites to date. This web design was built for a high end interior design business with luxury properties in Mayfair, Belgravia and Kensington. Expert photography and subtle animation combined with beautiful page transitions and subtle easing all contribute to the web site design's luxurious look & feel. Great care has been taken to deliver the optimum responsive web designs in mobile, tablet and desktop screens.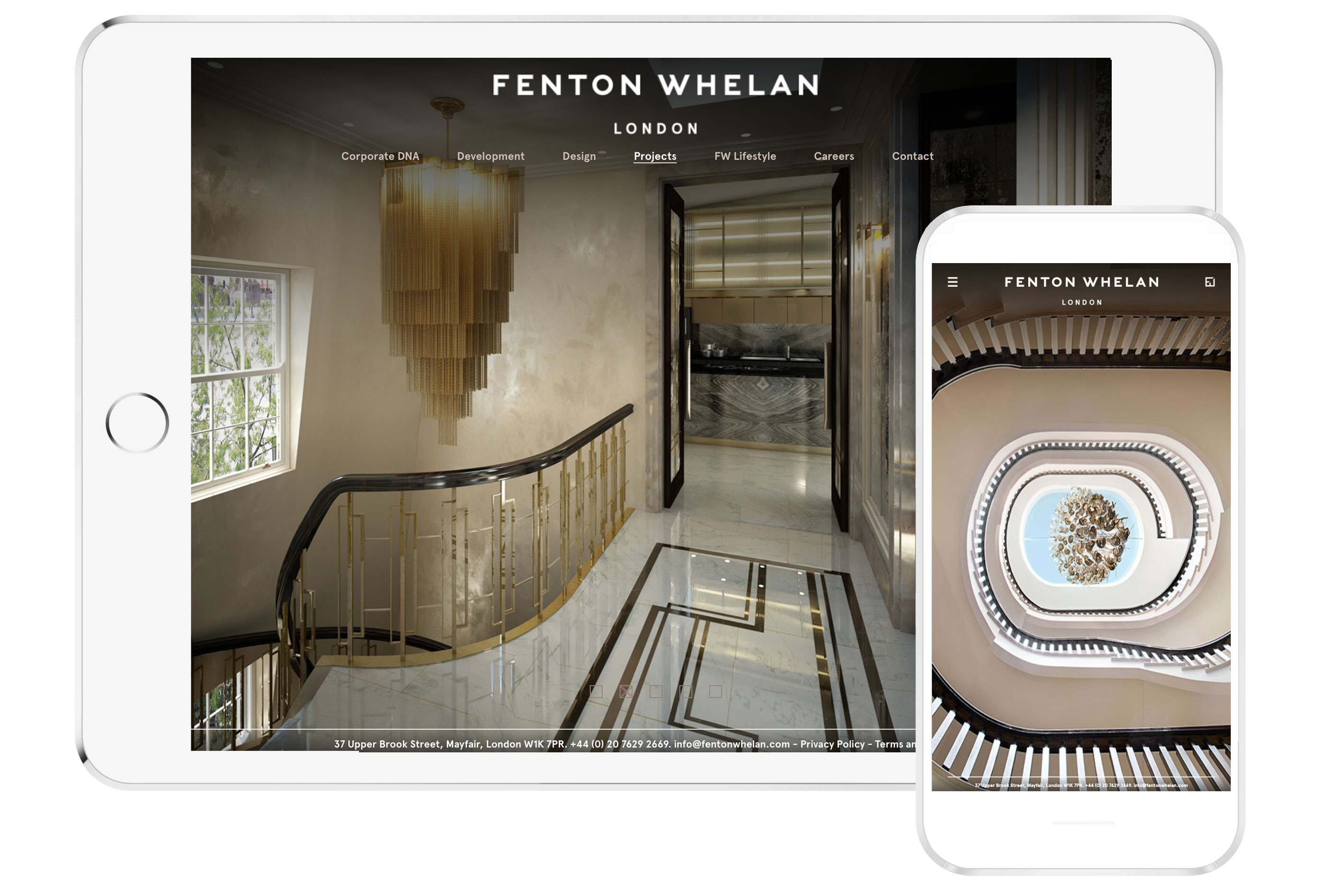 The web site opens discreetly with a subtle and refined animation using the company's brand identity. Once the user has entered the web site then they can find out more about this top interior design company's services within the various portfolio and news pages where beautiful imagery sits alongside a carefully considered use of typography.
Founded in Central London in 1993, JRA is a large and highly successful architectural practice delivering modern, contextual designs to their clientele. JRA came to us for a website to showcase their projects and allow for them to manage the uploading of news, event information and recent project work themselves.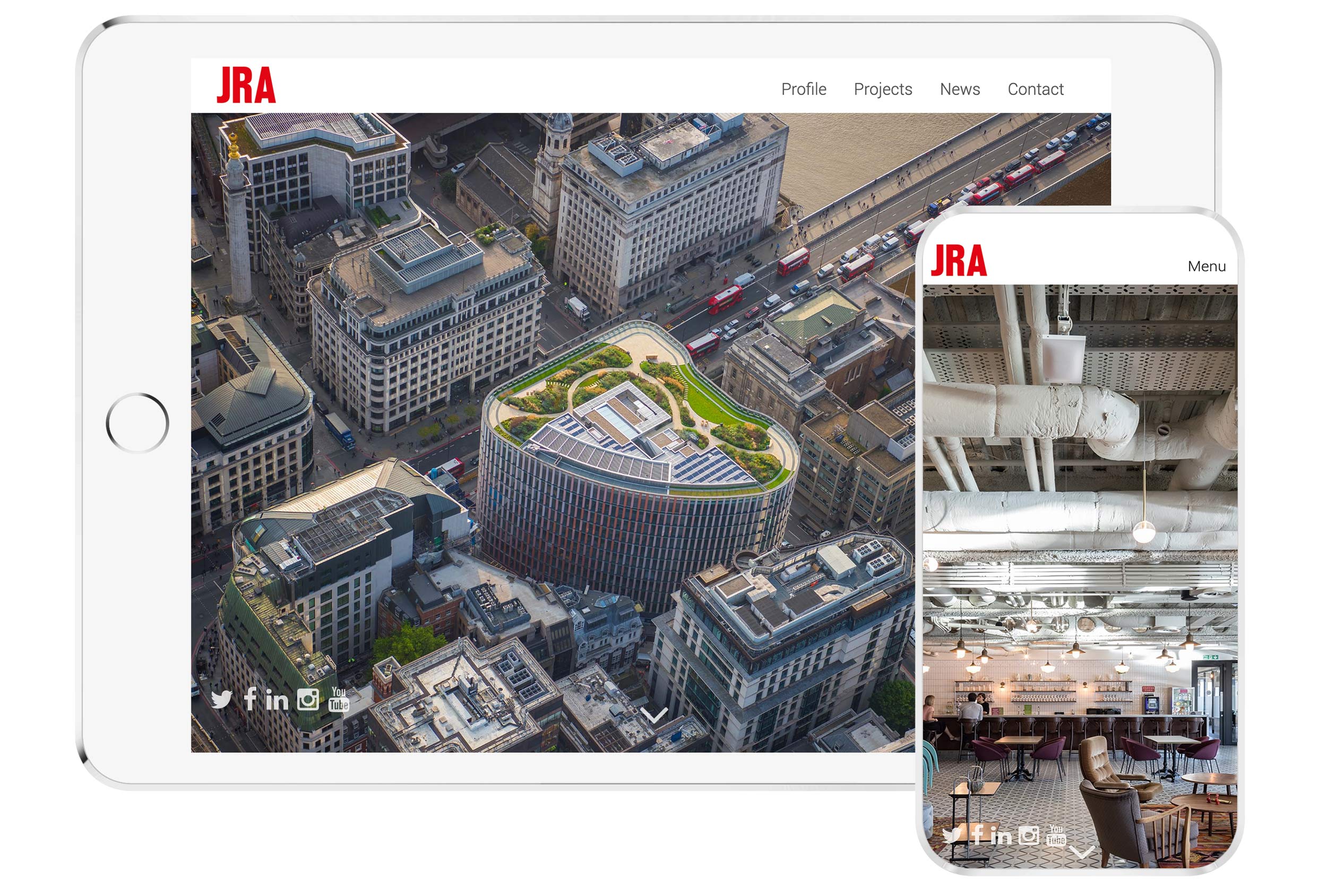 This website uses full-screen imagery to engage its visitors, presenting high-resolution shots of the company's large-scale architectural designs. It also features a three-column blog page and twitter feed where users can keep up-to-date with the latest JRA insights and news.
Natalia Miyar allows inspiration from her many years of travel to inform her unique take on architecture, interior and furniture design. Natalia came to us for for a bespoke website that would showcase her brand and its many creative successes.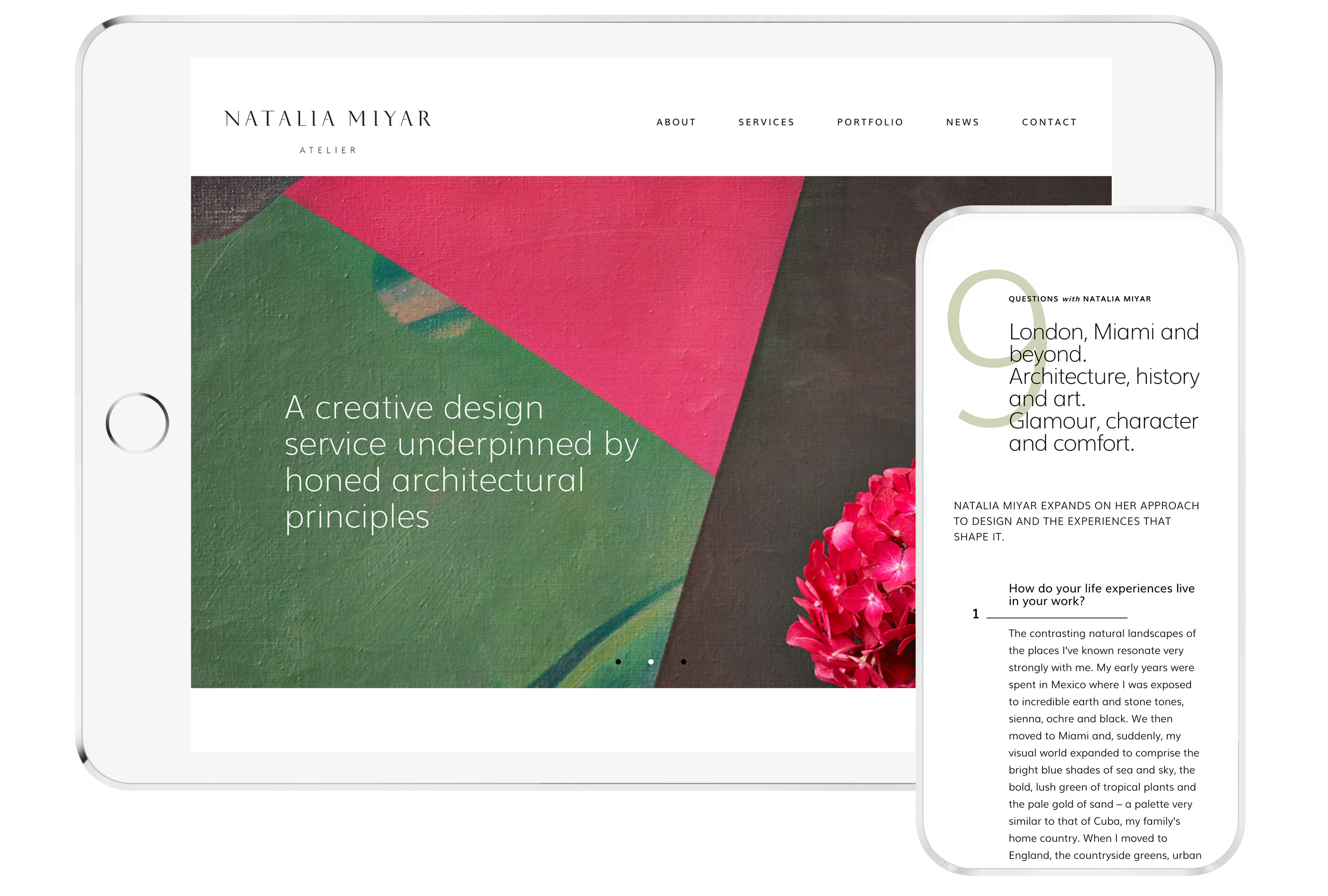 Natalia Miyar needed a website that could be completely tailored to her brand's identity as a Chelsea based luxury interior designer. The web site presents a contemporary, sophisticated feel with the inclusion of WordPress functionality to facilitate content updates.
This site boasts crisp visuals and a smart user interface, highlighting the exclusive level of service that Natalia Miyar provides. The two-column news and portfolio pages are atypical in their design, ensuring that visitors receive a unique and pleasant experience as they explore the website.
G & T London is a cutting edge property developer that uses the best technology to provide immaculately finished homes to its wealthy client base. G & T tasked Reactive Graphics to design and develop a property website that would attract potential buyers and showcase their existing projects through use of large imagery and smooth-scrolling animations.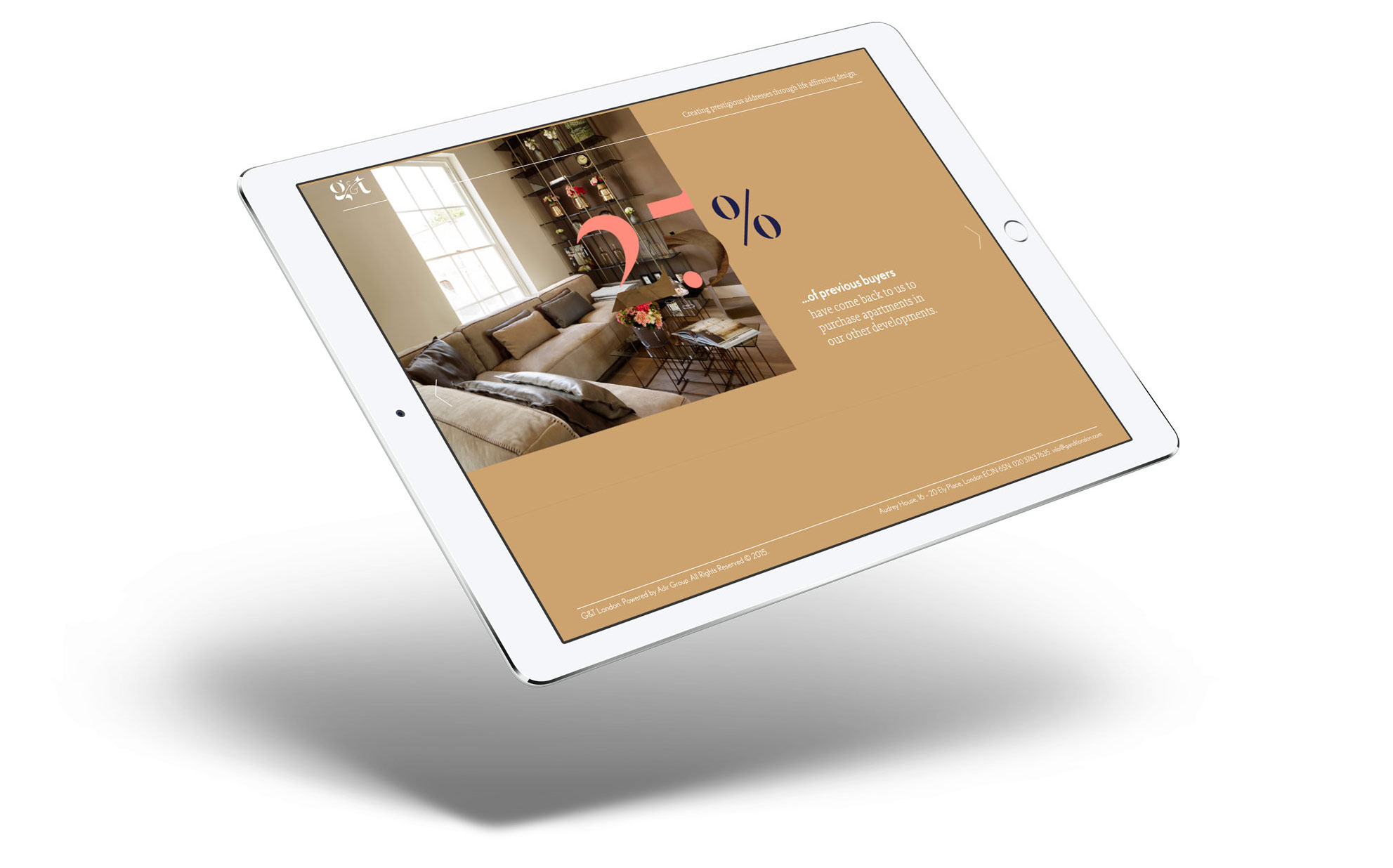 The finished site stands as a carefully designed brochure, dedicating a large portion of each page to imagery. We deployed a clever use of transparency within the web site, creating interest as the content moves horizontally against a fixed background image.
Labatt specialises in the high-end refurbishment of residential properties and commercial spaces. They take pride in the fact that their company has established a reputation not only for high quality design, but for the first class delivery of projects.
Designed to appeal to both architects and private clients, we re-designed the company's old website to incorporate the use of full-sized imagery and revised photography. Guiding users with subtle animations and simplistic navigation elements – visitors are encouraged to move around the website to view a 'snapshot' of Labatt's extensive construction portfolio.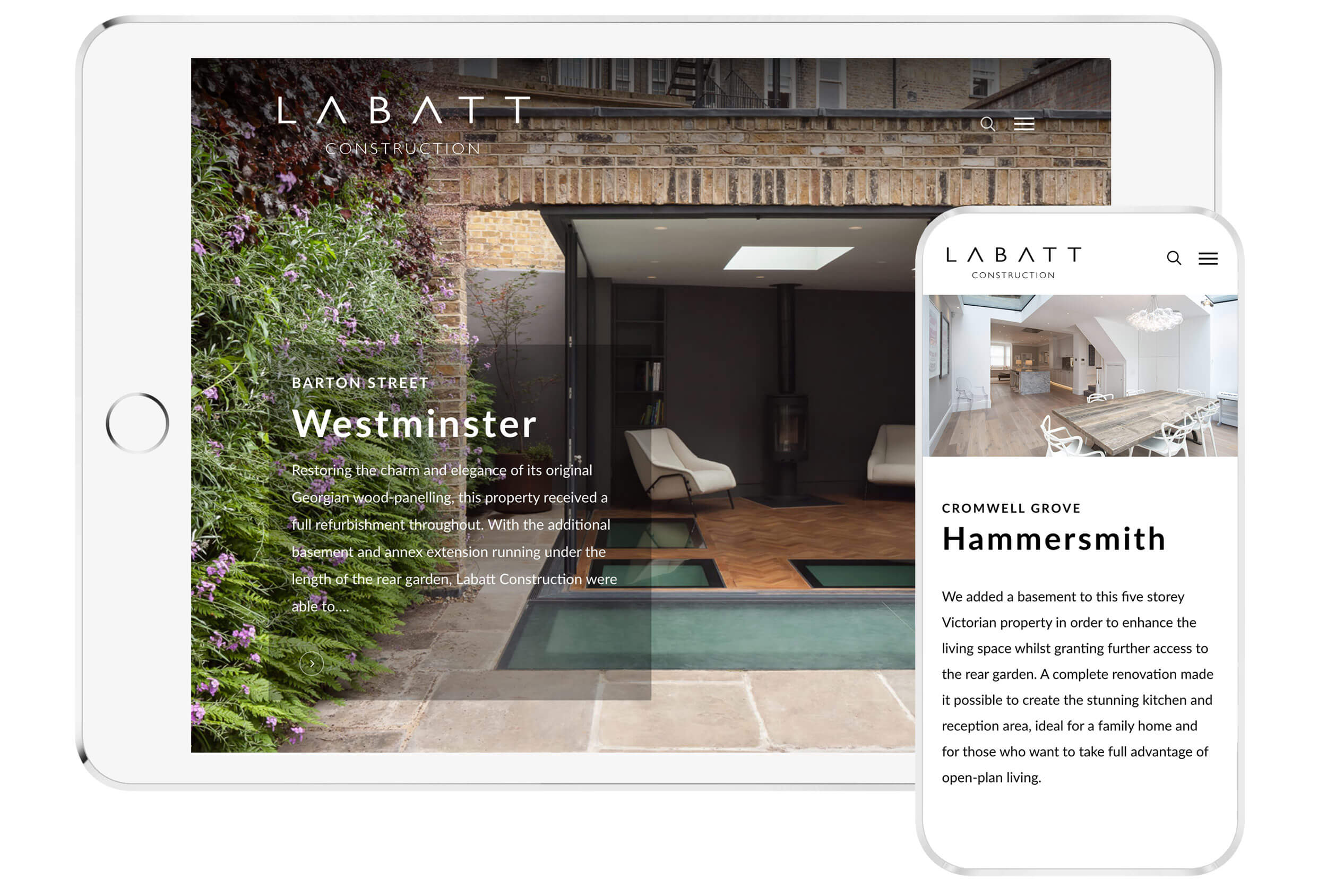 We work across multiple sectors
Do you have a project you would like to discuss?