WordPress is the world's leading content management system (CMS) and powers roughly 25 percent of all the websites on the internet. No matter which hosting platform is used, it is imperative to keep the core install up to date along with any add-ons which may also be used.
WordPress has 3 areas which should be updated regularly – the base platform, any themes, and the plug-ins. Updating WordPress is important to help protect your website from potential attacks and to keep your website running smoothly.
In this blog post we will share with you the importance of keeping your WordPress website up to date and how you can check if your site needs updating.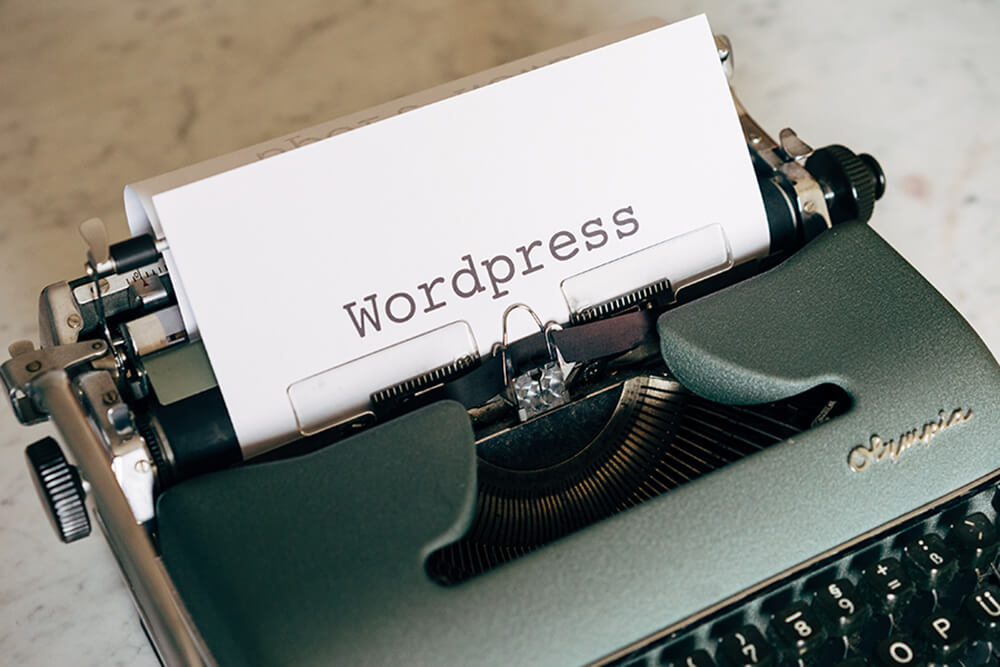 The primary reason you need to have a current WordPress installed is for security. With millions of websites hosted using WordPress it is not surprising that it is a huge target for hackers.
Security ricks are identified regularly by WordPress's security team and they will release updates or patches to fix these security risks. It is more likely your website can get hacked if using an older version of WordPress or plug-in's. If your website were hacked this could have a serious impact on your business such as loss of client data and your site being offline.
To fix your website after a security breach is likely to end up costing a great deal of time, effort, and money. Which is why it is imperative you keep your WordPress site updated and secure.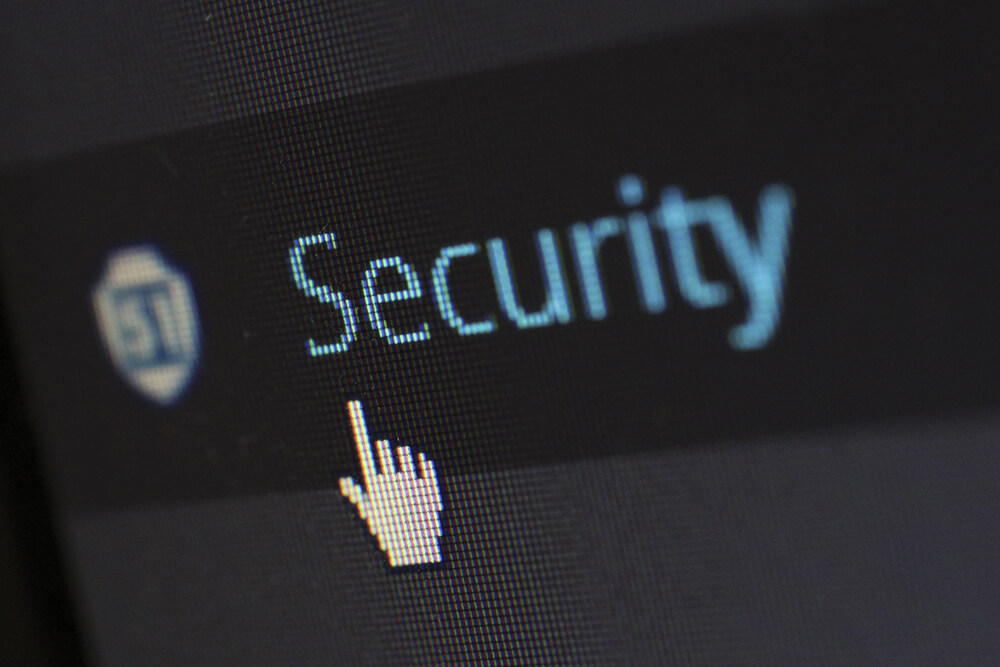 As with all software a new version usually brings new features, and this is no different with WordPress. Each version of WordPress comes with new features which may be a more intuitive admin experience or a new hook to help developers' program additional new features.
However, it is often plug-ins where you will see the major improvements. Developers often update their product to improve performance and keep the downloads and purchases coming in. Most plug-ins regularly introduce new features in updates.
By ensuring your WordPress install, theme & plug-ins are all using the latest versions you will always have access to the latest features.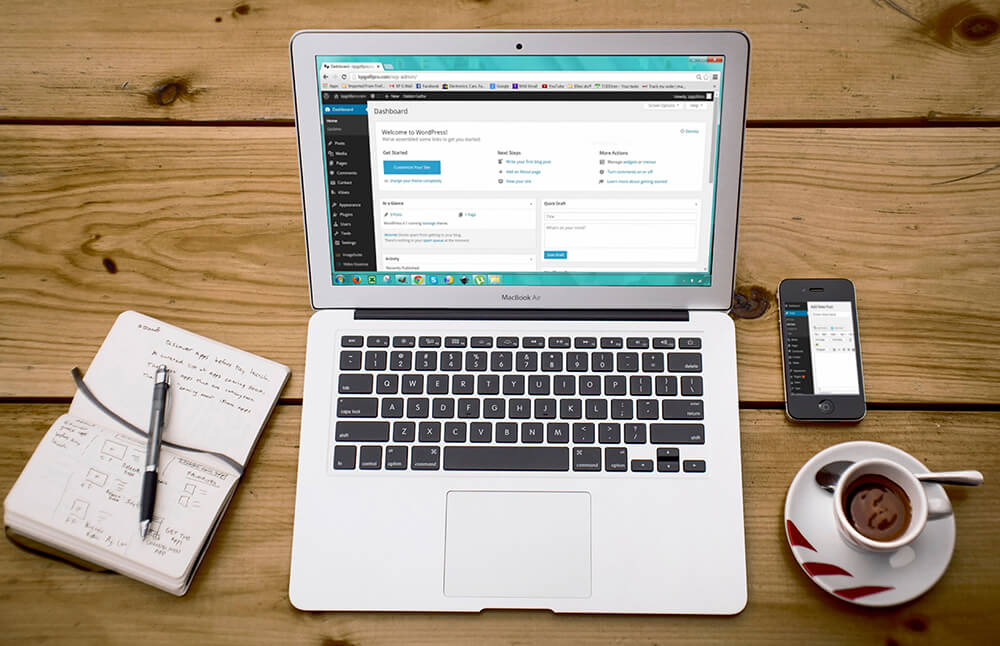 Before a new version of WordPress is released to the public it undergoes rigorous testing. A major release will tend to be very stable and bug-free due to the rigorous development cycle and the huge number of people who will help with testing.
However, some small bugs slip through the cracks. Regular WordPress updates are released to fix these bugs. Usually a new minor version of WordPress may fix up to ten small bugs, again ensuring the best experience for both you and your website visitors whilst using your website.
Following a major WordPress update, many plugins will also get an update to ensure compatibility with the new version, or to make use of new features.
Occasionally you may find that an update to WordPress or to a plugin results in compatibility problems with another aspect of WordPress. For example, another plugin is no longer compatible. Therefore, it is important to perform a back-up of your site prior to updating.
Most website owners will simply click that update button, cross their fingers and hope for the best. However, clicking update without the proper preparation is risky for your site. Running updates incorrectly can easily break your website and leave you with long term website problem.
Before beginning to perform website maintenance and updates, run a backup. Using one of the available WordPress backup plugins makes it easy to automate daily backups of your themes, uploads, plugins, and database. If you haven't done this yet, it's important.
Hosting companies normally make it possible for you to backup your database and website files. Ensure that you will be able to restore any of your backups from the past 30 days.
How do you know when you have updates waiting?
Look for red circles with numbers in them that tell you how many updates you have on any screen in the admin area including the Dashboard. In the updates page it will tell you if there is a new version of WordPress to be installed and the list of plugins and themes that have updates too.

How to make your updates to WordPress
Remember to always backup your website before making any updates. Then when you click on the update's menu item or the top Updates icon menu item, you will be taken to the following WordPress Updates screen:
If your WordPress version needs to be updated, notification appears just above the Plugins section.
This is where any plugins and themes that have updates are listed
You can select the plugins you want to update then click update but we recommend updating them individually from the plugins window.
Take the time to make sure you update one thing at a time and make sure your website is backed up and your WordPress version is up to date first. Then check if anything on your website has broken or changed from the updates.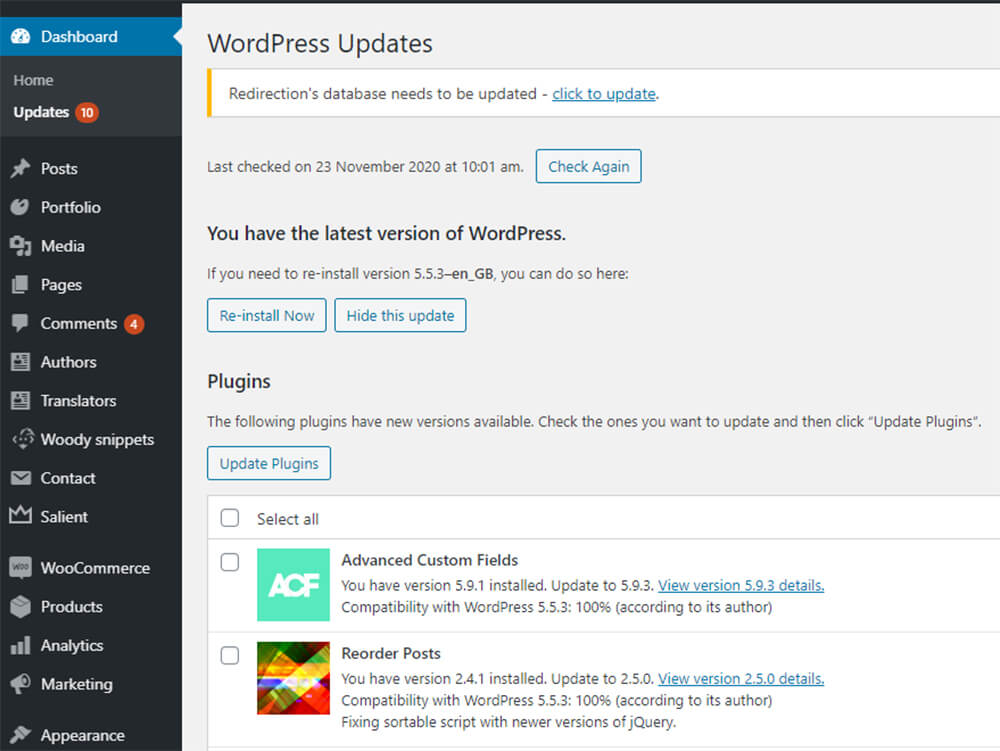 How often should you update your WordPress Website?
The average WordPress website will have 5-10 (or more) updates available to run every month, some of these updates may include critical security and bug fixes so usually we recommend sticking to a monthly update schedule.
Weekly updates are often too frequent because running updates with care is somewhat time consuming you can end up spending a lot of time working on your updates.
However quarterly or annual updates are far too infrequent because if you leave large gaps between updates you are highly likely to have a known security issue maliciously exploited before the next update is run.
We at Reactive recommend you check for update every month to keep your website safe and up to date.
We build WordPress websites and can keep them up to date for your business.
If you require a website for your business then Reactive Graphics can help your company to correctly position itself in the marketplace.
Get in touch with us today to see how we can get your project off the ground!
Or you can view our portfolio of work here.
Looking for a new website design?