Let's take a trip down memory lane and stop off in the late 90's. Myspace was about to be publicly launched and GeoCities was the third most visited website on the world-wide web. If you were a fan of these sites then you'll probably remember a little bit about their set-up, maybe you had a GeoCities' band page or a Myspace profile.
A GeoCities website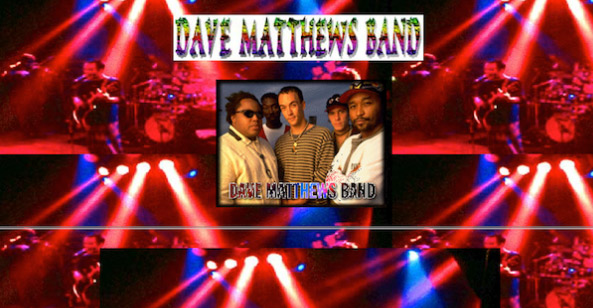 The Myspace interface for example was a bit like a patchwork quilt made up of dizzy layouts, multiple layers and random bits of HTML. This wasn't the most enticing user friendly set-up for an account holder. However, as it was one of the pioneers of social media its popularity initially wasn't curtailed by this and for loads of 90's kids Myspace's Tom (Myspace cofounder) was their first ever 'friend.'
But fast-forward a decade to this new digital-age where usability is (or should be) the top priority of all web designers and developers and those complex non-user friendly websites are being banished to the depths of the world wide web.
Tom's Myspace Profile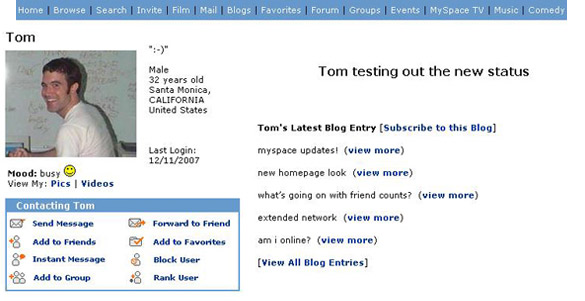 What is usability?
Web usability is based on the effectiveness, efficiency and user experience (UX) of your webpage. Usability can be measured by the user interface and interaction, the process and design used to develop the website and the adaptability of a company in creating a user friendly design. Ultimately, if your clients cannot access your product or services effectively online then it practically renders your online presence obsolete. Although this may sound quite dramatic, there are multiple research papers and statistics dedicated to this one topic.
The longevity of your website is determined by the quality of the UX. Usability encompasses the surrounding data that relates to the understanding of users, what they need, what they value, their abilities, and also their limitations. Usability measures the accessibility of your website, and therefore your business, this is including but not limited to web, mobile and tablet use.
In order to correspond to modern standards of usability your website should have:
A user-centred design
thinking of the web visitor experience throughout the process
Good accessability
designing for diversity and not excluding access to your website's functions by thinking solely about the 'standard' user.
Strong information architecture
focusing on designing effective navigation, organisation and search options to offer ease of operation.
a targeted approach
you must first identify the target audience, which will consist of one or more user groups, address the UX and react accordingly.
Managing web site usability isn't a walk in the park. It takes rigorous testing and a adaptable design framework that can adjust according to your audience's requirements. We suggest applying evolving techniques, for example responsive web design, to your usability then you are developing an infrastructure that is flexible and manageable.
5 common usability issues
Findability
In the competitive world of online commerce, ensuring the success of your findability is giving you that initial 'Pick me!' over your competitors.

Martin Handford's Where's Wally?

Findability is important across all browsers and devices and must be rigorously checked because if you aren't visible on these platforms then you are ostracising potential clients. Remember, 70% of UK consumers flit between devices daily and a whopping 60% actually browse the web first on their mobiles.
User Security
If your user feels like their information is being used incorrectly and their security is being compromised then they will more often then not leave your site and search for a competitor who doesn't make them feel at risk.
Visual noise
Have you ever visited a website and your eyes almost explode with the colossal amount of information presented to you on one page? As mention in our Buzzfeed article Design Trends in 2015 simplicity really is often the key to successful usability.
Poor Navigation
With relatively complex parallax websites and the infinite scroll taking the world wide web by storm there are bound to be usability issues that crop up. Infinite scroll works wonderfully for relatively flat designs such as Twitter, with its continuous feed of text and images however endless scrolling is not recommended for goal-oriented finding tasks, such as searching for particular products or information. Be savvy about this, it isn't always a good idea to follow the trend.
Stopping points
We've all been there. A link doesn't work. The site navigates you to the wrong page. The page doesn't load quick enough. This is why usability testing is a must when ironing out these fatal creases in your website.
With these problems in mind a company must address whether their online presence is something that has a significant effect on their revenue and overall work output, which in today's society seems highly likely. In our previous blog titled Digital-first: forward thinking branding we discussed how digital-first branding is taking the web by storm with companies noticing that the majority of consumers – and it's only predicted to rise – search for products and services online. In today's fast paced society it is about being available and fast. Usability is the glue that holds a website together and without it you you are effectively designing for disaster.
The key benefits of usability
So the reasons so many companies are budgeting for usability testing and opting to work with web designers who create with the user in mind are as follows:
Higher revenues through increased sales
Increased user efficiency and satisfaction
Reduced development costs
Reduced support costs
Longevity
At Reactive Graphics for every website that we produce we have a team of individuals testing and managing the usability of the designs and layouts, searching for potential problems and glitches that the user may encounter. We create websites with the UX in mind and concentrate on the practical, experiential, affective, meaningful and valuable aspects of human–computer interaction and website design. We are designers with a strong interest in the future of the web and we always take in to account the durability of the websites, logos and newsletters we design.
Web, tablet and mobile design for GenSight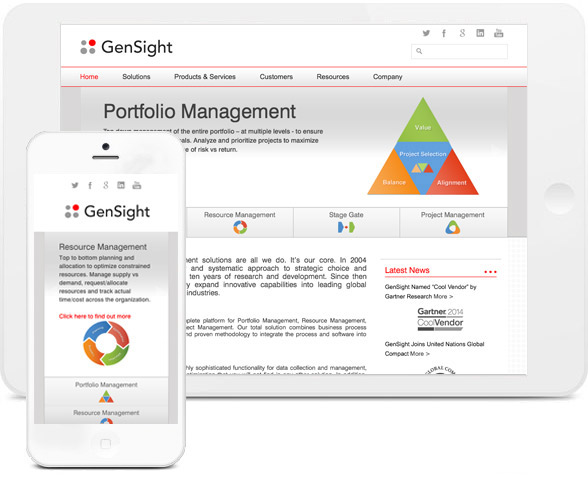 Web design for G&T London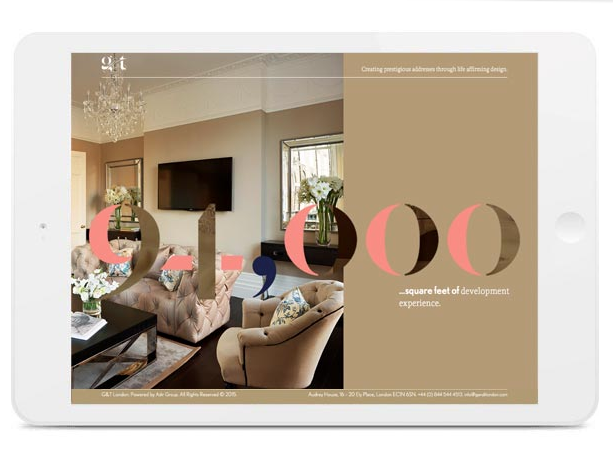 Reactive Graphics provide services in web design, web development, illustration, video for web, and graphic design. We can highlight and redesign usability flaws on your website creating beautiful responsive web design and WordPress web designs.
We work hard to create a bespoke service that suits your company and your users. If you would like to see more of our work then please visit our portfolio page. Alternatively if you would like to chat through some ideas for your website then please
get in touch or if you'd prefer to meet in person, our lovely onsite cafe is the perfect spot for a brainstorm.
#wearereactive
Save