Way back in the day, when online anonymity was one of the intriguing mysteries of the internet and the phrase 'on the internet, nobody know's your a dog,'was the famous adage that ruled the web, identity and digital branding weren't all that important. These days however, a digital presence is the first step to building a successful brand/business and in many cases a successful social life.
personal branding
Firstly let's talk about 'personal branding'. Over the past few years social media sites and interactive apps have got people in a real digital frenzy. These social media addicts share their best bits and most (least) interesting anecdotes 24-7 with a whole host of people from friends and family to perfect strangers and potential lovers. Yes, it has been confirmed that over 1/3 of new relationships now start online and Facebook's chief operating officer Sheryl Sandberg states that the majority of web users will now only use services where online interactions are supported by "authentic" identity. So unfortunately, the internet (and possibly the captcha code system) will know if you are man or mutt.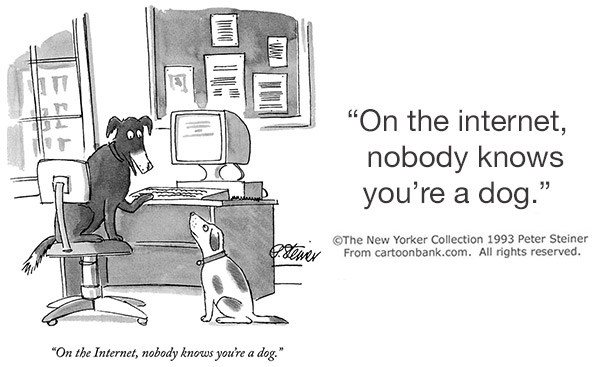 ©The New Yorker Collection 1993 Peter Steiner
what is digital-first branding
While personal branding is on the rise, digital-first business branding is also going through the roof. Creating an 'authentic' identity for your business is extremely important at present, with consumers buying into a personality as well as a product, service or skill. Digital is no longer an after thought and a company that wants to be noticed by their clients, needs to think about their target audience and figure out where and when the first point of contact will be for them. As a result it is important to create the initial part of customer interactivity with a digital mindset.
Digital-first branding is important for brands who want to engage clients proactively and network in the wider digital world. Online communications must incorporate multiple devices (desktop, tablet & mobile) and multiple channels including your web site and social media. The majority (65%) of people make connections with businesses via their website first. Print materials like flyers and poster have their purpose for grabbing attention however they do not have the ability to reach a certain demographic much like digital advertising and web designs.
[slideshow_deploy id='910′]
With digital-first branding in mind you can tailor your business to work on multiple devices in any medium. Whether that be for a website, logo, digital billboard, web video or for print, if you think digitally-first then you have the ability to adapt and react quickly to advancing technologies.
Here at Reactive Graphics we design responsive web sites and logos that cater for optimimum display on on desktop, laptop, tablet and smartphone. We believe in digital-first, thinking creatively and methodically to produce brands that can stand the test of time. We design online and off-line across a range of different industries.
Digital-first thinking is much more than just a company name and a logo. Its about the ability to be multi-faceted and have a business identity that works in all formats. Digital can always be printed. However print cannot always be digitised, without amendments.
why is digital-first the way to go?
By thinking digitally-first you are investing into the longevity of your company and lets face it, with a massive amount of people checking companies out online before working with them, your website and your brand is super important.
A leading digital branding agency describe digital-first branding as 'In a very short time, an opinion will be formed about your brand based on appearance, language, demeanour and mannerisms. What they (potential clients) are really looking at is whether they have anything in common with you, if they like how you're dressed, and if you're easy to get along with.'
Quite a lot of businesses out there started their online journeys many moons ago. This means that their web pages unless they have been significantly updated are no longer fit for purpose. Businesses often then come to web designers like us and ask for an update, that doesn't veer too far from their original designs. The only problem being that their original branding and content wasn't designed with the multi-device viewer in mind, rendering their original designs somewhat obsolete to the majority of web users. However we can update and modernise sites that emulates their existing brand.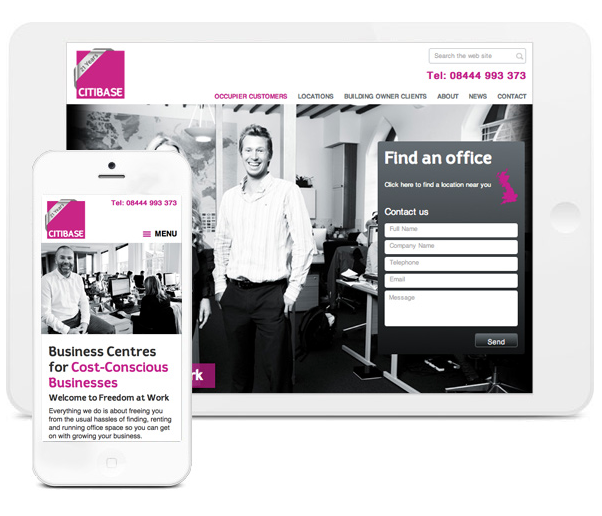 print vs digital
As web designers we understand the difference between printed type and how it renders on a digital screen. We understand how colour presents itself on digital displays and we know the limitations and advantages of a flexible set of design elements that are evolving and able to deliver to multiple browsers, devices and platforms. Creative Bloq says that 'as with responsive design, once these limitations have been accounted for, it becomes much easier to scale up the brand for traditional uses.'
Stand out from the crowd
In recent years many big companies have been opting for the digital-first approach. Businesses like Barclaycard are thinking digitally before applying the results to the broader canvas and the higher fidelity of the physical world. Branding giant 'moving brands' worked closely with barclaycard to develop strands of their website into apps and interactive platforms for customers. They recognised that their clients needed constant access to updates and information and a digital-first strategy was the best way to implement this. The simplicity and user friendly design of barclaycard online has secured them an increase in business and given them a reputation for being bold and clear.
If you would like to rebrand your online identity or if you need a web design team that can create multi-platform responsive designs for you, then please contact us.
You can visit our portfolio for inspiration or call us on 020 7471 8554 for a free project consultation.
Save