Some things are extremely difficult to ignore. Online video content is one of them. In a time of information overload we are all attracted to quick fixes and ways of gaining knowledge and information without having to spend hours trawling the web. The infectious world of viral video content is set to spread, grow and multiply globally.
Be warned, it is extremely contagious.
By 2018, every second, nearly a million minutes of video content will cross the web according to Cisco, which means it would take one individual 5 million years to watch just one month of published video content. With this sheer volume of visceral material massaging our eyeballs daily, we are forced to conform and recognize the staying power and potential of engaging video content.
You would think that the World Wide Web would feel crowded with that amount of visual stimulation. However, we are constantly sharing video content across the web like it is going out of fashion and with big guns like YouTube predicting that in the not-so-distant future 90% of internet traffic will be solely video, we can see why businesses and web developers are jumping on the band wagon.
So why is video so engaging?
The human brain is naturally drawn to visual content that is relatable, emotional and easy to digest. Online video content offers the perfect platform to do just that. For the past couple of years the rise of online video content has been vast. Now that video production costs are becoming more manageable and various social media platforms are creating easy to use apps, there really is no excuse to not include video content as a major player when planning your content marketing strategy.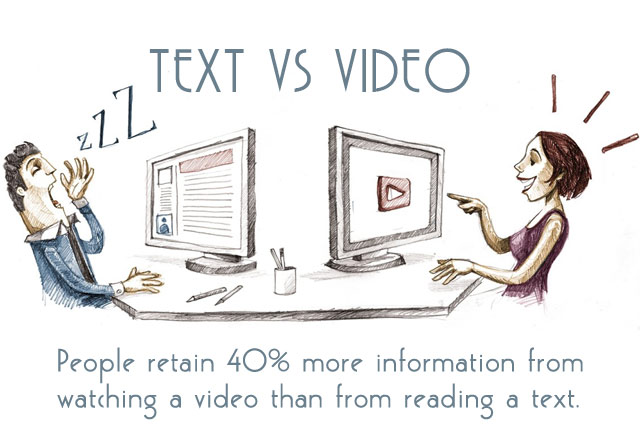 Vine for example, the rapid-growing video app baby of social media giant Twitter has businesses and marketing professionals recording video content to increase professional engagement. With an inherent limit of 6 seconds you don't have to be a highly skilled cinematographer to capture a Vine. With the ease of use and the time restrictions, businesses are coming up with innovative ways of selling their brand in short and sweet video recordings. It's mobile and it's social with users having the ability to record, edit, watch, share and comment within the one neat package.
Getting involved…
From advertising your product, to selling your brand and services, video content really doesn't have to be super flashy. It can be about human interaction, offering an alternative experience of what your company offers in concise manageable chunks. Video content offers you the ability to show your audience what's on offer, rather than just tell them. According to Forbes we are hot-wired to interact with the human face and voice as a point of believability and source of important information.
In 2014 we saw the rise of the vlogger. Video + Blogging = Vlogging
Although the name doesn't exactly role off the tongue, it has become apparent that the Vlogging phenomena are achieving something that brands have long tried to achieve with their target markets – long term engagement. Regular video blogs serve as a sort of weekly meeting with audiences, where the viewer can comment and post questions directly to the vlogger, essentially creating a hive of interactivity and therefore lots of loyal hooked-on-the-honey worker bees. Sparking interest in whatever topic they are addressing, vloggs are not just for fresh faced 20 something's talking about lipstick but can be a powerful communicator of brand identity and personality for those businesses with something to say.
Recording interviews is another extremely savvy way of getting your company out there. Lead creatives or company execs can share a slice of their working life offering insights into how they generate ideas or how they interact with clients or even what they look for when searching for a new employee. By offering this type of video content, it allows viewers to see that you are an active and dynamic company. Even global giant Google shares an 'inside look'of their offices, offering audiences more intimate familiarity with the company, its products, and what it stands for.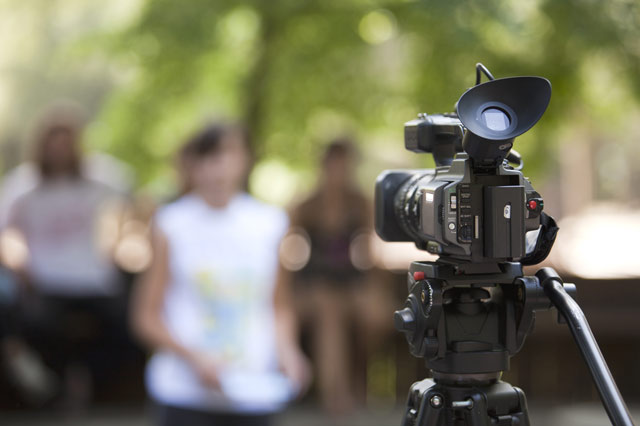 Essentially your website serves as your online identity with potential customers visiting your site for a taste of your brand and to view previous work. Video content could potentially boost the value of the information that is already there. Whether you record short testimonials from previous clients, or include video tutorials explaining the sustainability of one of your services, you really can use the simple vlogging style of recording to your advantage. Plus it is easily sharable through your already existing social media sites such as YouTube, Twitter, Vimeo and Facebook. With YouTube alone gaining 1 billion new visitors monthly there's potential for massive SEO growth and more online shares. You may even go viral!
How can your business benefit from video content?
Creating video content is much more than just lights, camera, action. If you decide to include video content on your website it is extremely important that you define closely what your goals and intentions are. Is it to increase the number of viewers on your site? Is it to generate new leads? Is it to show off one of your products or pieces of work? By understanding your video target audience (which may differ from your usual demographic) you may be able to shape the type of video content you want to include.
By creating video content you can deliver lots of information in a very concise and visual way. You are offering viewers the chance to become involved in a different type of interaction with your company that moves from basic white paper script to quick, snappy informative video shorts.
Creating video content can however be rather time consuming and if badly done, detrimental to your brand. Not good! If your content is monotone with bad edits and terrible lighting, then you risk the possibility of coming across as unprofessional and a bit of a digital dunce. You must allow the video content to be a different digital voice speaking the same language of your brand. Remember you want to engage viewers, show off what you've got and be consistent. Reactive graphics follow this same process when designing a website or logo.
If you want to be noticed in 2015 then video content creation is a sure fire way of doing that. Think beyond one-sided points and focus on top-of-the-funnel customer/consumer engagement. Video can offer that multi-dimensional user experience that may potentially set you apart from competitors and make you as a brand much more desirable.
If you would like more information of how we could support you in uploading video content to your website then please take a look at our video services page or contact us
#wearereactive
Save